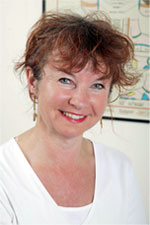 I am a fully qualified and professionally insured Holistic Therapist with a background in Counselling and Stress Management. I have over 15 years experience having worked in Adult Education, Womens' Self Development Groups, Dr.Banardos, Nursing Homes and with Special Needs Children as well as running self help work shops in Reflexology, Massage and Stress management.
My life and work are a continuing journey in developing sensitivity and awareness in Complimentary Therapies. I regularly attend courses and workshops to update my knowledge. Central to my beliefs is a truly holistic approach for improved health and well being. In working through the body healing can take place at all levels: psychologically, emotionally, physically and spiritually.
I am also a founder partner in Talking for Peace which uses the principles of non-violent communications to change patterns of behaviour and transform relationships and lives.
WHAT YOU CAN EXPECT
At the first appointment I include a full consultation encompassing Health and Lifestyle. This enables me to form a foundation for future treatments. All information is treated with respect and in strict confidence.
THERAPIES AVAILABLE
Reflexology, Therapeutic Massage, Aromatherapy, Manual Lymph Drainage [MLD], Indian Head Massage.
CONTINUED PROFESSIONAL DEVELOPMENT
Indian Head Massage [Champissage] with Narendhra Mehta. Reflexology with the International Institute of Reflexology; Post Graduate training with Anthony Porter and ART; I am an authorised practitioner of VRT [Vertical Reflex Therapy] having completed courses with its founder Lynne Booth; I hold a diploma in Nerve Point Reflexology having trained with Nico Pauly. I qualified in Aromatherapy at The London School of Massage founded by Patricia Davies.